About Me
Hey there, I'm Lily and this is my blog. I'm 26 and live near Provo Canyon, Utah. I absolutely love living here and I think Utah is one of the most beautiful places in the world, even though I've never left the US hehehe.

I love being outdoors, exercising, cooking, playing with my animals, and just living my life out loud. Physical fitness and nutritional consciousness is very important to me so you can expect me to be writing about those things a lot on this blog. I am interested in journalism so that is why i started this site--to practice my writing skills. Hope you enjoy!

Powered by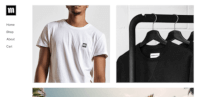 Create your own unique website with customizable templates.